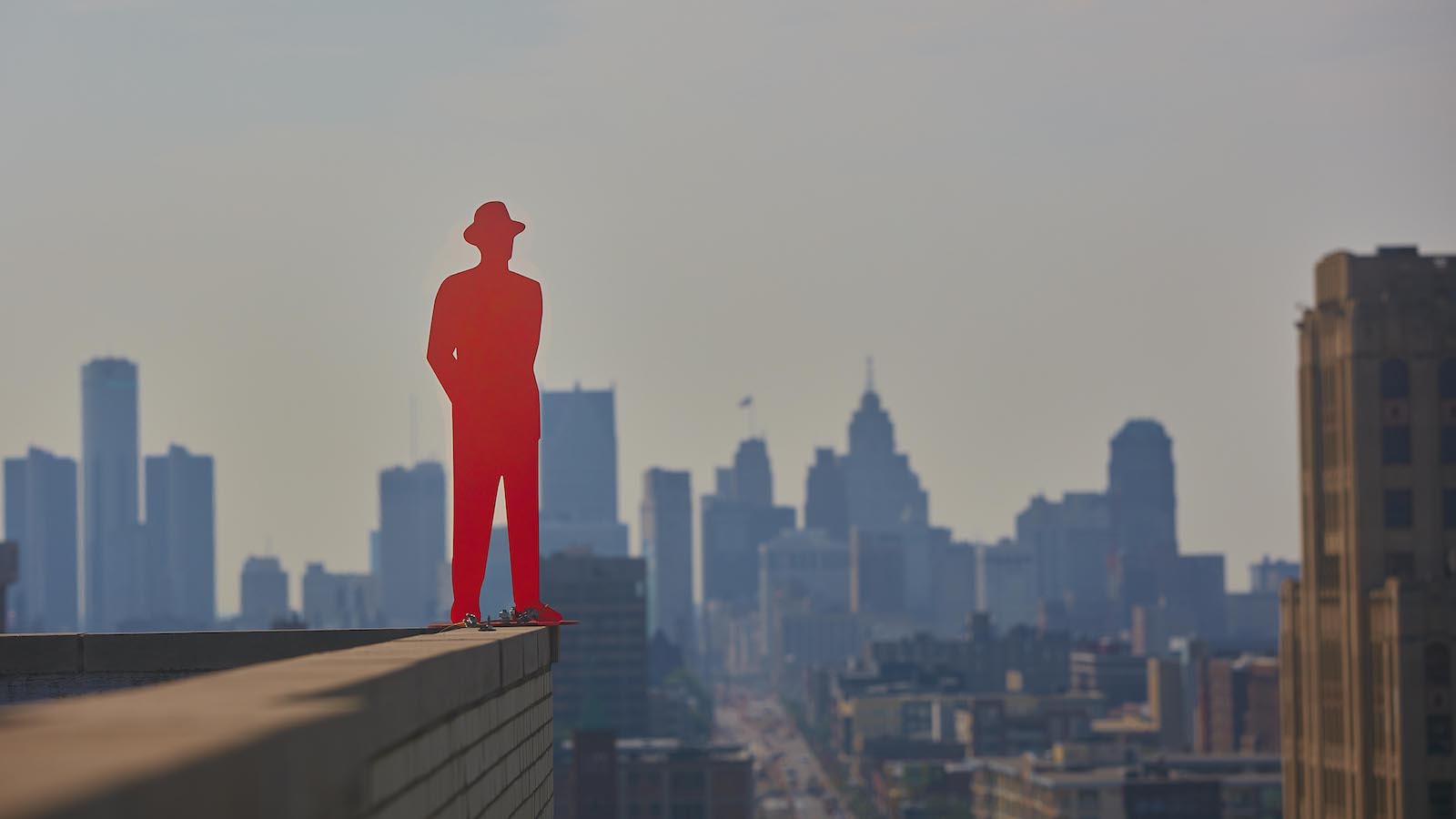 DETROIT, January 9, 2019 – The thought-provoking and highly-recognizable public art exhibit Man in the City is kicking off its 10-year anniversary celebration with a series of partnerships, events, and installations. The year-long narrative launches this month with a partnership with the world's largest coatings manufacturer, Axalta.
This coming together of creativity and manufacturing will be celebrated at Axalta's North American International Auto Show Charity Preview event, January 18, 2019, at Cobo Hall, Detroit.
Providing support to the Sauvé Art Foundation's work with local arts education programming was a natural synergy for the company and future design and creative talent for the region. "I am continually impressed by the impact John Sauvé's Man in the City art programs have made on children in Detroit. We are proud to work with him as he celebrates his 10-year milestone and look forward to supporting his efforts," said John Wray, OEM Global Marketing Manager, Axalta.
Man in the City's sculpture installation was the first public art displayed on the Highline in New York City, Subsequently, the elevated park has become the top destination in New York City.   Following the New York Exhibit, Sauvé brought the Man in the City's sculpture installation to Detroit and has since installed more than 100 sculptures across the skyline of Detroit. Each piece has created place in the City of Detroit and a must look-up opportunity to soak up the architecture of the city.
The Sauvé Art foundation partners with non-profits, schools and youth centers to create unique arts education opportunities that incorporate the Man in the City's sculpture installation. In addition, the Man in the City truck is a traveling arts truck that provides pop-up art classes, exhibits, and programs. Most recently Sauvé has worked with: Center for Success, Neighborhood Service Organization, Cranbrook Schools, Hispanic Youth Center and Boll Family YMCA where he served as Artist in Residence and received the Volunteer of the Year Award.
"Public art and exposure to art are critical to society. To be able to share my work and experience with youth in our region and spark their creative spirit is invaluable," said Sauvé. "Partnerships such as our relationship with Axalta provide me with the opportunity to reach more students."
In addition to the NAIAS event, Axalta has housed a series of the Man in the City sculptures in their Detroit offices. The onsite installation has sparked interest and participation from staff and customers to support the Sauvé Art Foundation.
Both Axalta and the Sauvé Art Foundation have planned several partnership events throughout the year.
About Axalta: Axalta is a leading global company focused solely on coatings and providing customers with innovative, colorful, beautiful and sustainable solutions. From light OEM vehicles, commercial vehicles and refinish applications to electric motors, buildings, and pipelines, our coatings are designed to prevent corrosion, increase productivity and enable the materials we coat to last longer. With more than 150 years of experience in the coatings industry, the 14,000 people of Axalta continue to find ways to serve our more than 100,000 customers in 130 countries better every day with the finest coatings, application systems, and technology. For more information visit axalta.com and follow us @Axalta on Twitter and on LinkedIn.