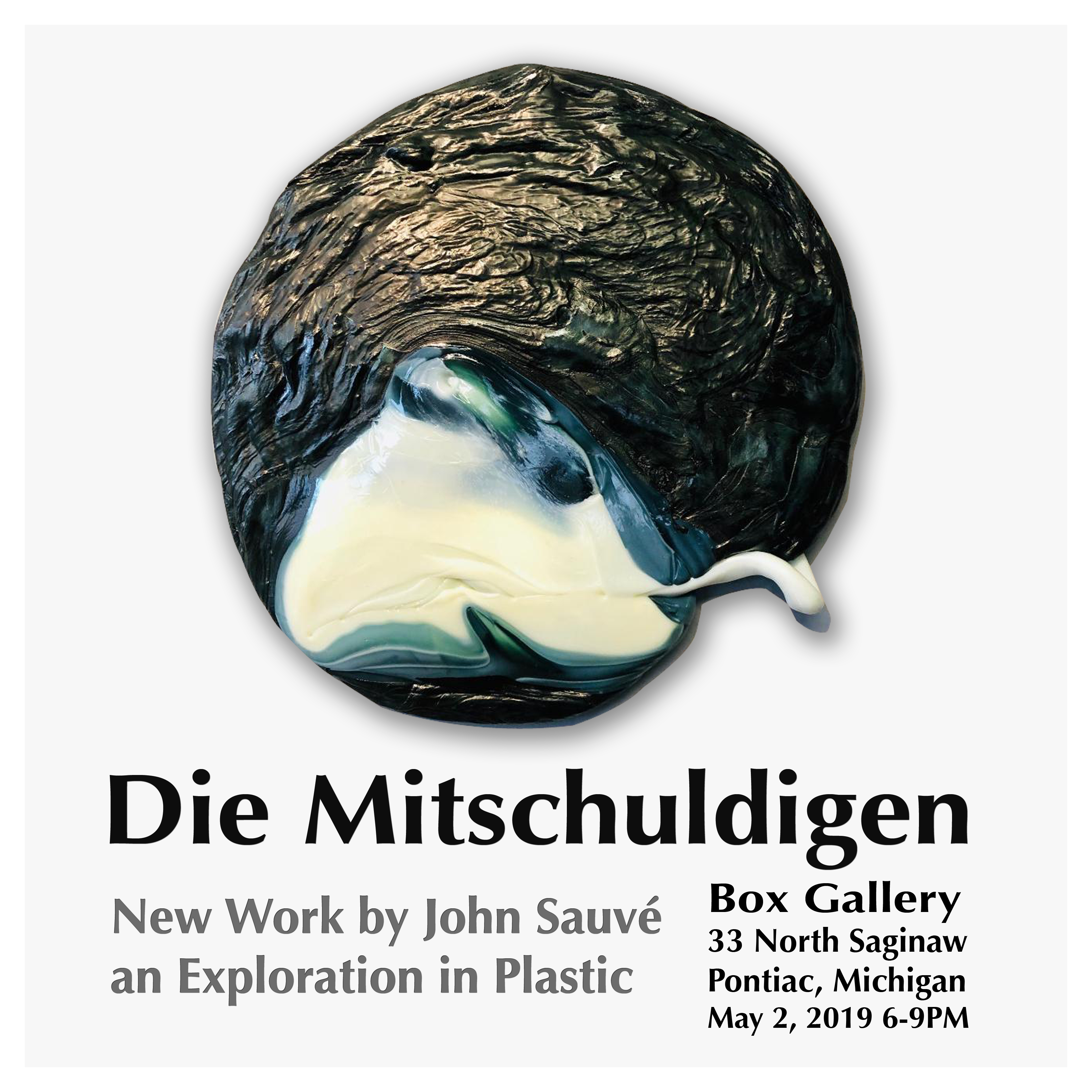 Renowned sculptor John Sauvé is pleased to launch his latest body of work at Box Gallery, Pontiac opening May 2, 2019, from 6-9 p.m.
Made entirely of recycled manufacturing plastic waste, Die Mitschuldigen is a series of one-of-a-kind pieces in various size and expression. Hypnotic in nature, they not only captivate the viewer but also spark a deeper level of contemplation as it relates to the ongoing pollution and destruction to our environment from manufacturing waste.
Sauvécreated the works over the past four years through exclusive access to a local plant. This allowed him to capture and manipulate the otherwise useless residual plastic at the precise moment it is eliminated from the machines and prior to disposal in a landfill. The results are a collection that is both beautiful and telling of the current world trajectory.
"The impetus for this series was the continued erosion of our environment due to pollution and Global Warming," said Sauvé. "Regardless of ideology, we have to acknowledge that pollution and excessive waste is wreaking havoc on our future. These pieces will hopefully give perspective to the magnitude of our manufacturing waste and spark further action."
The artist and his Sauvé Foundation have partnered with multiple environmental organizations to further the mission of the series in inspiring conversation and ultimately change.
Known for his extensive public art series, Sauvé's installations are thought-provoking landmarks. Some of his most acclaimed works include:
Man in the City- The first public art installation on New York's Highline, this iconic series now boasts more than 100 pieces across Detroit and the region. The series celebrates its 10-year anniversary in 2019
I am the Greatest- This Southwest Michigan tribute pays homage to legendary boxer Muhammad Ali
Hemingway Sculpture Project-Celebrates the impact of Ernest Hemingway and literacy advocacy.
Sauvé Foundation- Creates impactful arts education programs and fundraising partnerships.
Box Gallery will host a preview of Die Mitschuldigen on May 2, 2019, for dignitaries, collectors, and other VIPs. The exhibit will officially open to the public as part of the Pontiac Art Crawl on May 3, 2019. Pieces are available for sale at both events. Following the Art Crawl, private showings may be arranged by appointment.
To schedule an interview or attend the  May 2, preview contact: Heidi Hedquist at 248.872.1022 or heidi@causeandeffectmi.com.