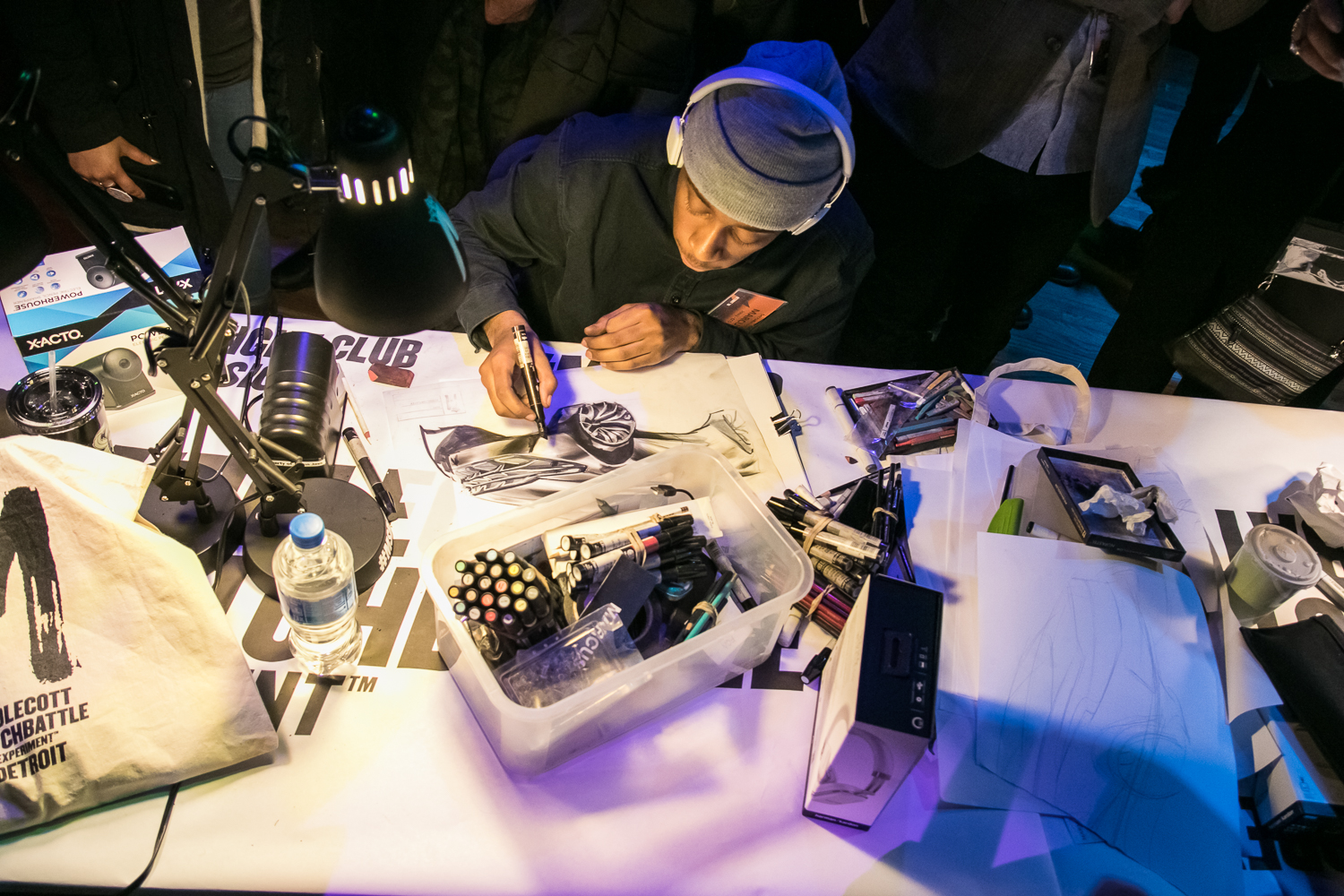 DETROIT- (January 4, 2019)— Project Beautiful – Inside and Out (Project Beautiful) is proud to announce it has been named the non-profit partner and beneficiary of this year's legendary Middlecott Sketchbattle #15.
The epic event will be held on January 15, 2019, at St. Andrew's Hall at 7:00 p.m. The evening showcases the best of the best in automotive design in a thrilling competition that draws automotive, art and party enthusiasts alike. Sketchbattle will donate all ticket sale proceeds to the local non-profit for the fourth year in a row.
In addition, this year will hold an additional fundraising opportunity for the organization. Four pedal cars customized by renowned artists will be onsite and offered up via silent auction. The artists include Jay Shuster, Pixar artist/production designer known for the film Cars, Camilo Pardo, automotive designer and fine artist, Sheefy McFly a local graffiti artist and Bob Soroka, airbrush artist.
Founded in 2015, Project Beautiful aims to bring smiles to people when they need it most — working with shelters and other service organizations to provide add-on initiatives. Proceeds received from Middlecott Sketchbattle events over the past three years have enabled Project Beautiful to grow their signature Mother's Day Program. In 2018, Project Beautiful gifted $24,000 worth of donations to 4 Metro Detroit domestic violence shelters helping make Mother's Day special for 100 women and their families at First Step in Wayne County, Haven in Oakland County, Interim House in Detroit, and Turning Point in Macomb County. Contributions consisted of a catered brunch for the women and their families, gift bags for the women, needs list items to each shelter (personal, beauty and baby care items, feminine hygiene items, bras, panties, PJ's, cleaning products and more), and a donation of $1500 per shelter for a project of their choice.
The partnership between the organization and Sketchbattle brings a natural synergy and awareness for the important work Project Beautiful does. "We are honored to be the chosen beneficiary of this great event," said Gilles. "The funds we've received each year have allowed us to directly and positively impact those in need and we are ecstatic to expand our partnership in 2019."
Frank Schwartz, Advanced Automotive Consulting Services and Middlecott Sketchbattle, felt Project Beautiful was the natural recipient choice, "We look to choose local charities, not national because we want the Sketchbattle to give back in the communities that host us. We also want to support charities that utilize a large portion of their fundraising to the recipients, and not to the staff," said Schwartz. Project Beautiful's mission and work is definitive of the types of organizations we work with. Doris is a kindred spirit in all that she does. It is our pleasure to be able to raise awareness and funds for their efforts."
Over the past few years, more than $16,000 has been provided from Sketchbattle events through ticket sales and auction items. This year, the addition of rare one-off art items like the pedal cars is sure to increase fundraising exponentially. "We are proud to support Project Beautiful and look forward to continuing to expand our fundraising efforts through the addition of elements such as this year's one-of-a-kind art pieces," said Banham.
Sketchbattle #15 is open to all to attend and is a must hit event of the auto show season. Tickets are a suggested donation of $20 and are available in advance here. A limited number of tickets are also available at the door.
ABOUT:
Project Beautiful – Inside and Out is dedicated to the following Mission: To build confidence and inspire hope as individuals and families – especially women in shelter and similar situations, in our community and beyond – rebuild their lives. We partner with other service organizations to create moments and experiences that bring smiles to people when they need it most. The organization's vision is: A beautiful and comforting environment and community that strengthens and motivates displaced individuals as they advance their lives.