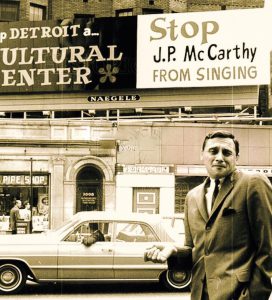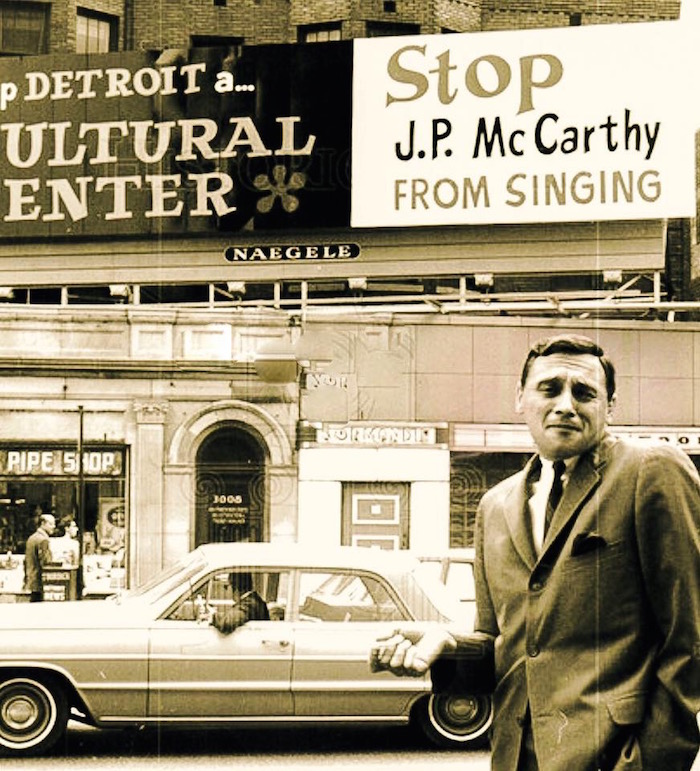 The Voice of Detroit
FOR IMMEDIATE RELEASE
Contact:
Heidi Hedquist
(248) 872-1022
hhedquist@thejrtagency.com
J.P.- The Voice of Detroit Nominated for Regional Emmy Award
FARMINGTON HILLS, Mich. (May 16, 2017) — The JRT Agency is proud to announce its own Jamie McCarthy's film J.P.- The Voice of Detroit is nominated for an Academy of Television Arts and Sciences Regional Emmy® Award.
The film, made in partnership with Detroit Public Television, takes viewers on a journey into the iconic career of broadcaster J.P. McCarthy, Jamie's father. Comprised of personal interviews and anecdotes from fellow media legends, it highlights J.P.'s unmatched approach to the airwaves and the indelible mark he left on listeners.
"When we set out to make the film, I had two goals in mind. First and foremost, to create a tribute that truly captured my father's professional spirit for both those who tuned in every morning and those who never had the opportunity to experience his magic," said Jamie, JRT Chief Creative Officer- Innovation. "The second was to inspire fellow independent filmmakers and, of course, capture the attention of the Academy. I'm excited to say we have achieved both."
Nominated in the Documentary- Cultural category, Jamie shares the nomination with fellow producers DPTV's Fred Nahhat, Oliver Thornton and Matthew Stinson.
The partnership between Jamie and DPTV was a natural alliance for bringing history to life. "When Jamie came to us it was a no brainer. We knew we had to make this piece," said Nahhat. "Taking this journey together combined with the outpouring of support and participation from the best in the business to share J.P.'s story was incredible."
Already an accomplished filmmaker and lauded advertising executive, Jamie's background matched with that of the renowned, talented DPTV team brought to life a documentary that is highly impactful.  JRT Agency CEO Mark Bellissimo sees Jamie's talent in action daily, "This nomination isn't a surprise to us," he said.  "Jamie brings a powerful degree of storytelling and passion to all our work here at the agency. We are extremely proud of him and what he's created."
Viewers watching J.P.- The Voice of Detroit are transported back to where they woke up daily with J.P.'s, "Good Morning World," greeting. Footage of the wall to wall St. Patrick's Day parties packed to the gills, his philanthropic rallying cries for such charities as March of Dimes and beloved tributes from family and colleagues round out the hour.
The documentary originally aired on DPTV in 2016 and was shown again on St. Patrick's Day 2017. The film can currently be streamed online via DPTV Passport or ordered through the website here.
The Regional Emmy® awards will be presented on June 10th at MotorCity Casino Sound Board. Interview opportunities with Jamie are available. For more information please contact Heidi Hedquist at 248.872.1022 or hhedquist@thejrtagency.com.
About Jamie McCarthy
Jamie McCarthy has made a career out of zigging when the rest of the world is zagging. His approach to all art, whether it be film, music, interactive media or brand advertising has always been inside out, upside down: Make the problem the solution and do it like no one has ever done it before.
It should come as no surprise that he has won awards for his creativity across multiple industries, from branded entertainment and technology applications at Cannes to Best Original Song at the Detroit Music Awards. all the way to creating a 2017 Regional Emmy® nominated documentary.
McCarthy feels most comfortable when he is putting himself in new and unfamiliar spaces to stretch his creative reach. He's produced and directed work for some of the bigger names in the advertising world including: Nike, McDonalds, Samsung, Allstate, Chevrolet, Nintendo, MTV, Jeep, Dodge, Intel, Frito Lay and The California Milk Association.
He lives to challenge his contemporaries by remaining a true student of innovation and loves to be the first to jump into the creative unknown.
About the JRT Agency
The JRT Agency is a marketing communications firm that is pioneering an industry revolution as Creative Scientists. Driven by the power of everyday invention, this unique group of talented individuals is known for its strategic, cost-effective solutions to tough client challenges. JRT's client base ranges across multiple verticals encompassing both B2B and B2C communications.  These include, but are not limited to: automotive, energy, food and beverage, historical organizations, and consumer goods. For more information visit: www.thejrtagency.com.
# # #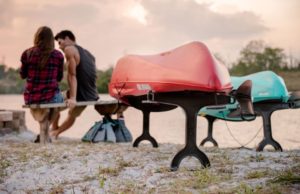 Shore Tee
FOR IMMEDIATE RELEASE
Contact:
Heidi Hedquist
(248) 872-1022
hhedquist@thejrtagency.com
Shore Tee by FOOTSTAKE Raises the Stakes for Paddle Sports

Michigan company creates revolutionary storage product for enthusiasts
Grand Rapids, Mich. (May 9, 2017) – LACKS Home Products today announced the launch of a game changing product for paddle sport enthusiasts, the Shore Tee by FOOTSTAKE.
The Shore Tee is the first of its kind, staked support for drying and storing kayaks, paddleboards and canoes. Unlike other storage options, the Shore Tee is easily portable and highly durable. Made of lightweight, weather-resistant plastic, the stakes are also extremely cost-effective. They retail at $59.99 per set.
"The invention of the Shore Tee will change the way paddle sport participants care for their boats," said Scott Stuart, Creator of the Shore Tee and Lead Design Engineer, Plastic Plate, a Division of LACKS Enterprises. "As a kayaker myself I saw the need for a product that would prevent mold and element damage not only at home, but on extended journeys as well. The Shore Tee is the ideal solution."
Weighing just 3.1 pounds, Shore Tees are convenient to pack. Their ease of use make them perfect for paddlers of all experience levels. The only tool necessary is a foot to push them into the ground. Set up and removal take mere seconds.
"The Shore Tee is a prime example of the type of products LACKS Home Products brings to consumers. Over the next 18 months we will be introducing additional FOOTSTAKE items to complement the Shore Tee and expand into the camping and urban garden realms," said Tim Grant, Shore Tee Program Director.
Early customer feedback has been overwhelming positive, fulfilling a long overdue storage solution. Individuals can currently order the product online at www.footstake.com. Retailers interested in carrying Shore Tees can contact: 800-351-9776 for wholesale pricing and distribution arrangements. Additionally, they will soon be available at paddle sport retailers nationwide thanks to a partnership with KL OUTDOOR and at www.walmart.com.
The Shore Tee is being put to great use by Traci Lynn Martin, an experienced expedition kayaker and successful ultra-endurance competitive kayaker. Martin will attempt to set a new World Record in kayaking for the farthest documented non-stop paddling trip by kayak in one year. Along the way, Martin will also seek to become the first kayaker to paddle all five (5) Great Lakes in one single, continuous trip. The Shore Tee by FOOTSTAKE is a proud sponsor of her journey.
LACKS Home Products interviews and Shore Tee review opportunities are available to media. Contact Heidi Hedquist, as listed above, for additional information and scheduling.
About LACKS Home Products: LACKS Home Products is an LLC of LACKS Enterprises LACKS Enterprises has been an innovative industry leader in automotive component manufacturing for more than half a century. Located in Grand Rapids, MI, LACKS is a privately held, family owned company. It currently employs more than 3000 people and is known for its products' unparalleled characteristics and commitment to excellence. For more information on LACKS Enterprises visit: http://www.lacksenterprises.com.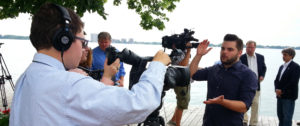 C&E In the News
Cause & Effect Marketing provides best-in-class marketing solutions to non-profits, small businesses and start-ups. We believe that entities that need great marketing thinking are often those who don't have the awareness or budget available to hire a large firm. Here is what the media is saying about some of our clients. Contact us today about how Cause & Effect Marketing can get your story told.
Over the Edge: http://www.fox2detroit.com/
Charlie V.: http://hellyeahdetroit.com/
Maquette Castings: http://www.dbusiness.com/
Detroit 2 Nepal: http://detroit2nepal.org/news/