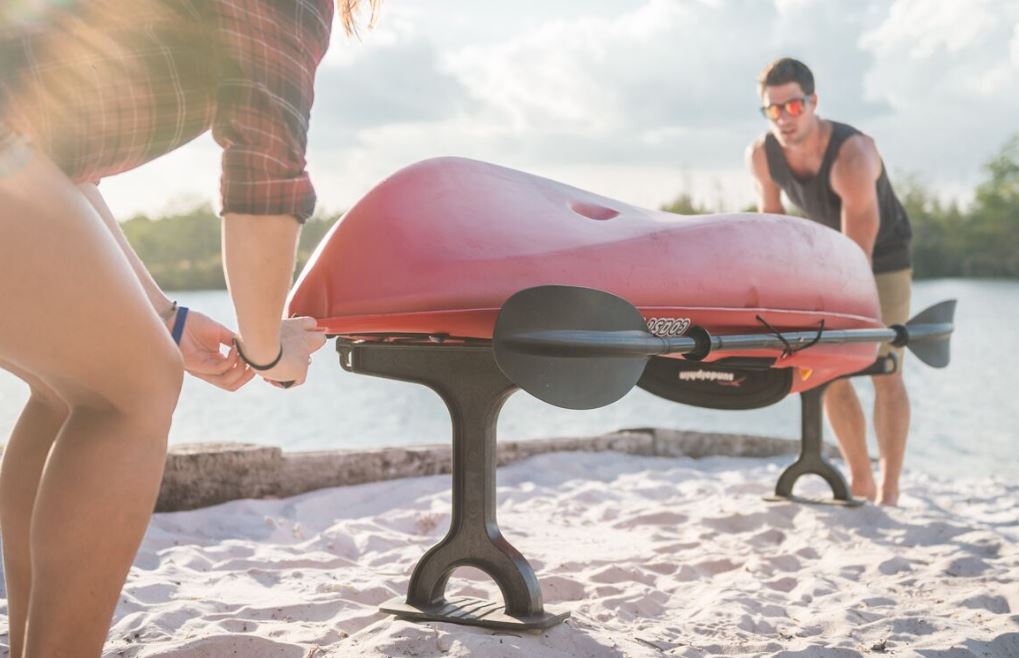 Shore Tee by FOOTSTAKE Raises the Stakes for Paddle Sports

Michigan company creates revolutionary storage product for enthusiasts 
Grand Rapids, Mich. (May 9, 2017) – LACKS Home Products today announced the launch of a game changing product for paddle sport enthusiasts, the Shore Tee by FOOTSTAKE.
The Shore Tee is the first of its kind, staked support for drying and storing kayaks, paddleboards and canoes. Unlike other storage options, the Shore Tee is easily portable and highly durable. Made of lightweight, weather-resistant plastic, the stakes are also extremely cost-effective. They retail at $59.99 per set.
"The invention of the Shore Tee will change the way paddle sport participants care for their boats," said Scott Stuart, Creator of the Shore Tee and Lead Design Engineer, Plastic Plate, a Division of LACKS Enterprises. "As a kayaker myself I saw the need for a product that would prevent mold and element damage not only at home, but on extended journeys as well. The Shore Tee is the ideal solution."
Weighing just 3.1 pounds, Shore Tees are convenient to pack. Their ease of use make them perfect for paddlers of all experience levels. The only tool necessary is a foot to push them into the ground. Set up and removal take mere seconds.
"The Shore Tee is a prime example of the type of products LACKS Home Products brings to consumers. Over the next 18 months we will be introducing additional FOOTSTAKE items to complement the Shore Tee and expand into the camping and urban garden realms," said Tim Grant, Shore Tee Program Director.
Early customer feedback has been overwhelming positive, fulfilling a long overdue storage solution. Individuals can currently order the product online at www.footstake.com. Retailers interested in carrying Shore Tees can contact: 800-351-9776 for wholesale pricing and distribution arrangements. Additionally, they will soon be available at paddle sport retailers nationwide thanks to a partnership with KL OUTDOOR and at www.walmart.com.
The Shore Tee is being put to great use by Traci Lynn Martin, an experienced expedition kayaker and successful ultra-endurance competitive kayaker. Martin will attempt to set a new World Record in kayaking for the farthest documented non-stop paddling trip by kayak in one year. Along the way, Martin will also seek to become the first kayaker to paddle all five (5) Great Lakes in one single, continuous trip. The Shore Tee by FOOTSTAKE is a proud sponsor of her journey.
LACKS Home Products interviews and Shore Tee review opportunities are available to media. Contact Heidi Hedquist, as listed above, for additional information and scheduling.
About LACKS Home Products: LACKS Home Products is an LLC of LACKS Enterprises LACKS Enterprises has been an innovative industry leader in automotive component manufacturing for more than half a century. Located in Grand Rapids, MI, LACKS is a privately held, family owned company. It currently employs more than 3000 people and is known for its products' unparalleled characteristics and commitment to excellence. For more information on LACKS Enterprises visit: http://www.lacksenterprises.com.