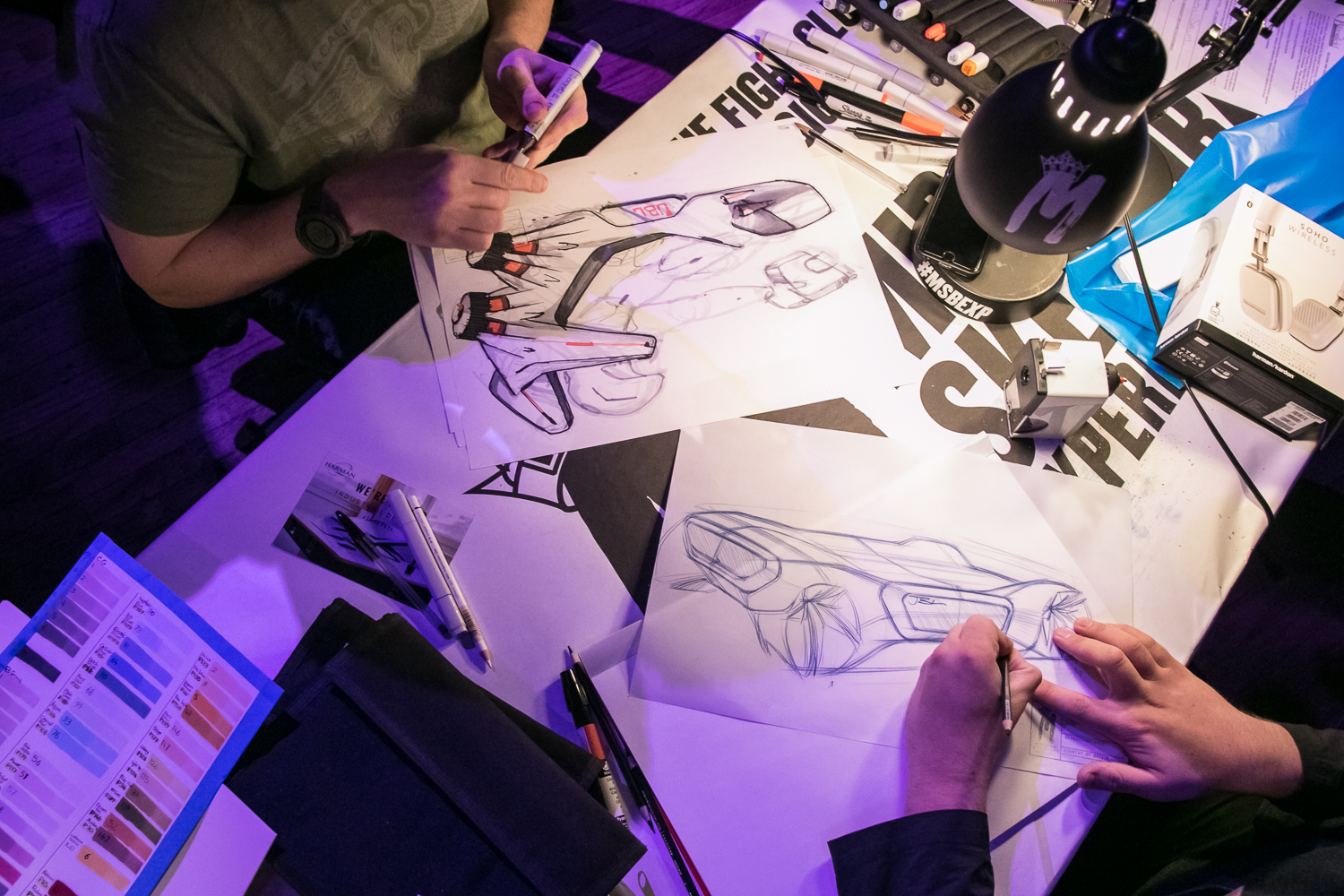 DETROIT-(January 4, 2019)— The designers are ready. This is the live car design sketching contest they've been training for all year. An epic Sketchbattle lies ahead. Who will be named Sketchmaster at Sketchbattle #15 taking home the coveted title belt and cash prize?
The legendary creative challenge and automotive design industry party blowout will take over St. Andrew's Hall January 15, 2019. Sixteen professional and student designers will face-off in three 30-minute rounds with their own distinct themes. Everything is happening in real time and all the car design sketches are hand drawn. The high-intensity in the room is electric as spectators and competitors alike feed on the suspense, competitive spirit and vibe of the night. It is billed the Fight Club of Design, after all. The ultimate victor receives a $2500 cash prize and the coveted Sketchbattle Championship Belt designed by Mobsteel.
Event judges for this year's event include the greatest names in automotive design. This year's judges are: Chief Judge Helen Emsley, Executive Director of Design, Global Buick and GMC, General Motors Corporation, Jeff Hammoud, Vice President of Design, Rivian, Ryan Nagode, Chief Designer, Truck, Commercial and Performance Interiors, Fiat Chrysler Automobiles and Adam Rabinowitz, Chief Design- Exteriors/Toyota, Calty Design Research, Inc. Past Judges have included Ralph Gilles, Head of Design, Fiat Chrysler Automobiles, and other renowned executives from Ford, GM, Tesla, Kia and new manufacturers like SF Motors, ZOOX, and Karma. Other esteemed guests have included Magnus Walker, Tom Matano, CAMILO Pardo, and Daniel Simon, designer of Tron Legacy, Prometheus, and Oblivion to name a few. In an interview onsite at last year's event, Gilles commented on the importance of design and the incredible exposure to the talent at this event. "People put design first of all… People react to the emotion of the product. Emotion wins the day," said Gilles. "We see it as a very valuable skillset and it's something we want to cultivate."
Attendees will be immersed in a feast for their senses. Emcee and "ring announcer" Terry Ayrault, Chief Creative Officer of the JRT Agency/CG Detroit will lead the night's activities and set the stage for each round. The competition heats up as Satori Circus is the "referee" and distraction for the competitors. DJ Emily Thornhill aka Thornstryker will keep the crowd dancing all night long spinning Detroit jams. In the famous basement The Shelter, there will be a charity auction and art show, the Shelter Art Show,from local artists across a multitude of media. Artists include Alyssa Baron-Klask, Chrissy Fehan, Kit Kat, Matthew Lisk, Shannon McKeon, Jason Reed, Rachael Robinson, Jessica Tierman, and Irina Zavatski . This is a must-attend for anyone who loves Detroit, art, design, cars and a great party.
The whole event is the brainchild of Brook and Judith Banham of Middlecott Design, who created the event back in 2012. Frank Schwartz of Advanced Automotive Consulting Services joined Brook and Judith as a partner one year later and has helped the event grow to new locations in Los Angeles, Las Vegas, and San Francisco.  As sketching is inherently competitive, whoever has the best sketch wins, in terms of getting the best job or their idea made, the Sketchbattle was conceived to celebrate and elevate design as a competitive skill and talent on par with athletics.This, married with a definitive Motor City experience of great music, ingenuity, an avant-garde spirit, and infectious energy seemed the perfect way to give a taste of why Detroit is so captivating to the world.
"What started as an idea to showcase Detroit's leading design talents has escalated to a can't miss event that epitomizes the innovation and swagger of our city," said Brook Banham. "We're excited to see this evolution continue as we expand the event nationally and internationally."  Frank Schwartz adds "For 2019 we are expecting further growth and currently planning our first international event.  One day we expect the world's greatest designers will travel to Detroit to really settle the argument who is the greatest."
A suggested donation of $20 at the door is recommended. One hundred percent of the ticket price will benefit Project Beautiful- Inside & Out and is fully tax deductible. The foundation was formed by Doris Gilles and provides support and confidence for families and women in shelter situations in our community. The organization was formed to help provide daily support and necessities such as toiletries and baby needs.
This year, the fundraising opportunities will expand with the addition of a silent auction. Four pedal cars will be on display available to win. Each has been customized by a top designer or artist and all proceeds will benefit Project Beautiful Inside & Out. This year's artists include Bob Soroka, airbrush artist, Camilo Pardo, designer,  Jay Shuster, Pixar artist known for the film Cars and Sheefy McFly a local graffiti artist.
Additionally, onsite will be the Sauve Foundation arts education truck. Designed by Brook and unveiled at last year's Sketchbattle. The truck serves as a vehicle for renowned artist John Sauve to provide first-hand art and film programs to students throughout the region. Sparking possibilities for the designers of the future.
The event provides a unique opportunity for designers to showcase their work and gain exposure to potential future employers, rub elbows with industry legends and key in how their fellow designers think. This is especially valuable for the students who participate.  A select number of advance tickets are available. To secure advance tickets click here. For more information click here or #MSBEXP across major social media channels.
About:
MIDDLECOTT Design is an international design organization based in Detroit, Michigan. They provide a myriad range of services including Industrial Design including; Transport and Product Design, Graphic Design including; Logo, Branding, Books and Magazine, and Website Design.  As Detroit's premier design consultancy, MIDDLECOTT offers an award-winning formula of high-octane design for clients across industries.
AACS (Advanced Automotive Consulting Services, LLC) is a business development consultancy working in all aspects of the automotive industry. AACS specializes in helping automotive suppliers with their difficult objectives like introducing new technologies, expanding business onto new continents or breaking down walls to bring in new customers. Services include executive strategy, market research, business development, and advanced sales. AACS is a team of experts who specialize in customer engagement!